THE BEGINNING & END OF THE SCHOOL DAY
School opens at 7.50am for our breakfast club provision and closes at 5.15pm when our after school club provision ends.
The compulsory school day;
| | | |
| --- | --- | --- |
| | The school day starts at... | The school day ends... |
| Nursery | 8.30 a.m. – 11.30 am | 12.15 p.m. – 3.15 pm |
| Reception & Key Stage One | 8.45 a.m. | 3.00 pm |
| Key Stage Two | 8.45 a.m. | 3.15 pm |
Reception and Key Stage 1 totals 31.25 hours per week. From September 2023, this will also total 32.5 hours.
Key Stage 2 totals 32.5 hours per week.
START OF DAY
At Outwoods Primary School, punctuality is very important. We encourage children to arrive for our 'soft start', which starts ten minutes before the register at 8.45 a.m. This helps ensure the children are settled and ready to get their learning off to a good start. There is a positive start to each day, as your child is welcomed personally by the class teacher who settles them into a morning task.
Children are requested to arrive at school no earlier than 8.30am. At 8.35am, the children will be welcomed and invited into school by a member of the leadership team and our Senior Family Support Manager. Before 8.35am, the school is not responsible for the safety of the children on the school premises, so please supervise your children during this time. Registration takes place promptly at 8.45am and again at 1.15pm. Your child must be in school by 8.45a.m.
LATE ARRIVALS
For safety purposes, all doors to school will be locked after all the children have entered. If you arrive after your child's start time, you will need to accompany your child to the school reception area, so that we can ensure they are signed in and registered.
Children arriving after 8.50 a.m. will be marked 'late'. If a child is persistently late, the Headteacher will be notified, and we will contact the parent/carer to discuss any problems. Our Senior Family Support Manager can also support families where help is needed.
MEETING YOUR CHILD AT THE END OF THE DAY
All children are collected from the front of school outside the exit doors through which the children leave. We request that parents stay at the front of school in the waiting areas. Children should be met promptly at 3.00 p.m. or 3.15 pm. If you are unavoidably delayed or the arrangements for collecting your children change during the day, please telephone school to let us know. Please allow enough time for your child to be informed of arrangements being changed. As the school gates and front door is locked at 3.30 p.m., parents/carers collecting children after this time should go to the main office.
How do I give permission for my child to walk home?
At the beginning of each academic year a Google form will be sent to parents/carers with children in Years 5 & 6, so that they can indicate their preferred collection arrangements. If a parent/carer makes the decision to let their child walk home alone (this can only be for children in years 5 and 6) they should make this known on the Goggle form. If arrangements change through the academic year, then the office will need permission in writing, either by writing and signing a handwritten note or via e-mail to enquiries@outwoods.staffs.sch.uk.
ABSENCES
To comply with Government regulations, it is a requirement that you contact the school on the first day of absence to explain the reason why your child is unable to attend school. If your child does not arrive at school by 9.00 a.m., and we have not heard from you, we will contact you by telephone and email to ask where your child is. It is crucial for the safety of your child that we are aware of his/her whereabouts at all times. The school has a legal duty to record all absences and to determine whether they are authorised or unauthorised.
School does not authorise holidays in term time. If unauthorised trips are taken, parents can be fined £60-£120 per child per parent and after 20 days, their child can be taken off role and their places offered to the next child on the waiting list. It is now an offence to take your child out of school without authorisation for a long holiday.
SICKNESS
If your child presents poorly during the school day, we will need to contact you to collect them. Therefore it is vitally important that we have up to date contact details for you and your child. Please notify the Office of any changes immediately.
If your child has vomited either at home or at school, you must allow 48 hours without sickness before returning to school.
PARKING
Please be aware that parking near to school is extremely limited. Parents are politely requested not to park on the yellow lines or zig-zags outside of school. The safety of our pupils is of paramount importance.
You MAY NOT drive onto the school grounds or the school driveway to drop them off no matter how congested Harehedge Lane may be. The school car park and the turning circle near to The de Ferrers Academy should not be used between 8.30 a.m. and 3.30 p.m. The exception is for vehicles requiring disabled access, when parents need to collect their child for an appointment or if their child is ill during the school day. In these circumstances, please telephone the office if you require access so that we can arrange this.
Please be aware that Parking Enforcement Officer's from Staffordshire County Council make regular spot checks and issue fines for illegal parking. Outwoods Primary School works closely with the enforcement team where parking restrictions exist and will report unsafe practises.
Be a Good Neighbour
Please show thought and consideration to our neighbours and not park across their driveways or mount the pavement, as this is dangerous to pedestrians. Outwoods Primary School acknowledges the importance of working with parents and having them on board and asks them to follow our parking guidelines, so that we are all working together to maintain a harmonious, happy community.
WALKING TO SCHOOL
We have access to the school through four different gates. Entrances can be found on Harehedge Lane, Rolleston Road, Tutbury Road and Castle Park Road.
There are crossing points surrounding our school. Please ensure your child uses the correct place to cross.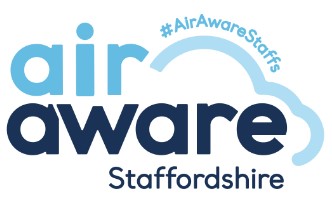 Air Aware Staffordshire - do one more thing to help your family breathe easier - #DoingOurBit
We've all heard that air pollution is a problem nationally.
Air quality is a problem across all of the country, and there are areas of Staffordshire where the air does not meet European standards for clean air.
Whilst local authorities are working hard to change things, everyone can do something to help themselves and their family breathe easier. Pollution from vehicles is by far the largest source of air pollution in Staffordshire. Even if you can't give up the car completely, the good news is that if you travel differently and change the way you travel one day a week to school you could make a massive difference.
Remember that parking away from the school and walking the last part of the journey gives parents the opportunity to promote walking as good exercise and makes a contribution towards learning to lead a healthy lifestyle. 10 minutes of walking goes a long way towards keeping you healthy. It gets your blood pumping, reduces stress levels and your risk of heart disease.
DOGS
For health and safety reasons, dogs are not allowed on the school site. The only exception to this would be, for example, is if a dog is being brought into class for curriculum purposes, or to assist someone with a visual impairment.
SMOKING
Smoking, including e-cigarettes, is not allowed anywhere on the school site, including directly outside the school gates.
PLAYTIME/BREAK
Morning Playtime
Morning Playtime is at 10.30 a.m. for Key Stage One and 10.50 a.m. for Key Stage Two and lasts for 15 minutes. All of the classes spend this time on the main playground areas, using each of the 'zones'. Our catering company, Mellors, provides a snack and drink that children can pay for during break. Fruit is provided to Reception and Key Stage One children free of charge. We encourage healthy snacks and remind parents that we are a NUT-FREE School. We set out all measures to reduce the risk to those children and adults, who may suffer an anaphylactic reaction if exposed to nuts to which they are sensitive. The school aims to protect children who have allergies to nuts yet also help them, as they grow up, to take responsibility as to what foods they can eat and to be aware of where they may be put at risk. We do not allow nuts or nut products in school lunch boxes, snack time or anywhere on the school site.
Lunch Time
Lunchtime begins at 12.15 p.m. for ALL classes. Children eat their sandwiches or school dinner in the main school hall or dining hall.
School dinners are prepared on the premises by Mellors Catering. Menu's and prices can be viewed here (Insert link). If children prefer to bring their own packed lunch, these should be brought in a clearly named lunch box. We ask that packed lunches are healthy and nutritious. They should not include sweets or fizzy drinks.
Please click the link below for suggestions of healthy lunchbox recipes, tips, and healthy food swaps.
https://www.nhs.uk/healthier-families/recipes/healthier-lunchboxes/
AFTER SCHOOL SPORT CLUBS
We have a range of after-school clubs on offer, which are organised on a first come, first served basis - the details of our current after-school clubs can be viewed here.
AFTER SCHOOL CLUB
We are currently exploring the provision of an extended school day for those working parents/carers, who are unable to collect their child at 3:30pm - the details of which can be viewed here.